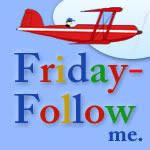 Hello. I thought I might give this Friday Follow a whirl and see how it goes. If you are new here, welcome and thanks for stopping by. If you are following, please let me know so I can follow you back. Now, on with the post!
Epic
Did you ever notice how words become trendy and take on a life of their own? Earlier, I was watching a movie preview and the announcer said something was epic. I have been seeing this word more and more lately. And I like it. It really makes me understand the greatness the writer is trying to express. This led me to wonder if there is anything bigger than epic? Anyone?
Whatever
This word has somehow wormed its ugly way into everyday conversation. If "LOL" is the text-ender, at my house, "whatever" is the argument ender. It's ugly. It's dismissive. It's condescending. If someone says it to me, I hear "Well, I have had enough talking to you and I no longer care about your opinion, so whatever else you have to say is unimportant and I am moving on with my life." I have come to detest the use of "whatever". I have made a conscious effort not to use it because when I do, I am usually being nasty. Whatever. How did a simple word come to annoy me so much?
Are there any words you have noticed that are trendy or completely annoying?
P.S. I apologize in advance if you use whatever. I assure you, I don't find it nearly as annoying when you say it than when my husband does :-)

P.S.S. Paradigm... very trendy, no idea how to say it, much less what it means... what a paradigm!