It's Wednesday - and that means it's time to get all that stuff out of you... oh, you know... the things you SHOULD have said, but DIDN'T and have been torturing yourself about all week... yeah, those things. Chief is hosting this weekly event, so after you leave me a comment (and validate my existence) click on Chief's button here and play along. It's fun... It's releasing... It's what I meant to say...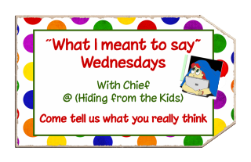 A long time ago, in a galaxy far far away, I had an appointment with a new ObGyn. I went to this practice because I needed a new one and this was the one my sister went to.
When checking in, I said that my sister had her kids with one of the doctors in the practice. The nurse turned to me and said "Goats have kids, women have children."
What I said: *crickets chirping*
What I meant to say: Listen, you arrogant b*tch, thank you for the etymology lesson, but a) I am not a child, b) what gives you the right to talk down to me like I am some piece of crap that blew in off the street and c) go take a long walk off a short pier.