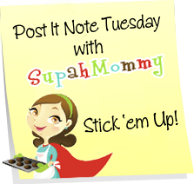 It is post-it note Tuesday again where you express all your thoughts into one little, itty-bitty, teeny-tiny post-it. Doesn't that sound fun? It is! You should play too. It's hosted by Supah, so you can get all the deets from her
here
.
Here are my post-its!
And in other news, I have a winner to announce. For playing along in my very first giveaway, the winner receives the following:
I originally was going to have Random.Dave draw the winner but since I am at work, I used Random.Jim. Random.Jim picked:
Hurray! But to the other eleven people who entered my giveaway, you are ALL WINNERS!! Don't let anyone tell you otherwise.
Happy Tuesday to everyone & Hakuna Matata!
~Laurie